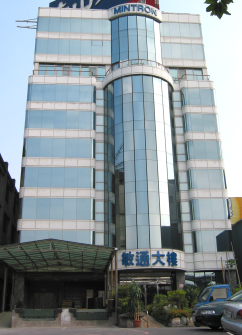 Mintron is the world leading CCD Camera, Digital video recorder and video distribution equipment manufacturer in Taiwan since 1979.
All production activity are certified by ISO-9001 since 1997 & ISO-14001 since 1998.
Most of our products have CE, UL/CSA, FCC approval respectively.
Major products containing Color and B/W CCD Camera by using Mintron's proprietary Hard-wired DSP (Digital signal processor) and image sensor from SONY, Panasonic ,SHARP, Samsung.
We are able to design and manufacture the most advanced Alpha series camera that leading the world.
Application including CCTV system, Office/home Surveillance, industrial control , Medical equipment. Aerodynamic, Satellite. Digital video recorder, PDA , Notebook , Video Conference, PC, USB camera, LAN camera, MODEM camera Internet IP camera ... etc.
Housing style including Long, Short, Mini, Dome and Board type, and garden variety of spy camera in very small size such as 22X23mm or 11.5X50 mm.
Lens can be used including C/CS Mount,12 mm Board Lens, 9 mm mini lens 12X,16X,22X Zoom lens and other special lens.... etc.
On video processing and recording we have DVR (Digital video recorder ) 16 Channel Multiplexer CRT Monitor, LCD monitor, Video Amplifier, Bracket, IR Detector, Timer, Pan Tilt Unit, Quad, Outdoor Housing, Switcher, Distributor, infrared illuminator and Capture card.
Product mainly export to Europe, America, Japan, Mainland China, Taiwan and 46 principal countries.
We offer one stop shopping Service for all our product line. Satisfactory guarantee. 
With one stop shopping you will have the best Quality and effectively after-sale serve from our oversea Authorized-Station Located worldwide.